patienceaintmystrongsuit asked:
Ok, to take your inbox to another spiritual place... What are your top 5 MSR moments, they don't have to be overly significant, but that you enjoy to watch over and over? 😘
You're so sweet. I love you! ❤️ I think you already know the answer but here we go:
1. Redux part 2:
From the moment Mulder got, metaphorically, the wind knocked out of him, when he sees Scully lying in that bed at the hospital, to when he smiles, relief written all over his face, saying that her cancer is going into remission I think this is one of my favorite MSR-centered episodes. But I have to say that the kissing-Scully-hello scene, when he comes to visit her is the best part for me … 🥰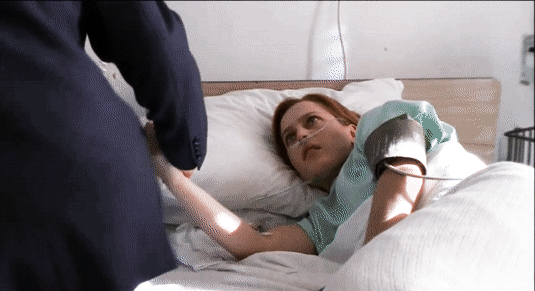 2. Field Trip
It's my favorite episode, but I think the moment that hooked me forever is the holding hands final scene. Even in the dark, injured and barely alive they reach for each other. I love that!
3. Dreamland.
I love this episode. I have an obsession about the music playing in the background of that bar scene and, sadly, I never knew the name of that song. I think one of my favorite MSR moments is when they say good bye in the end of Dreamland 2 and he hands her some of his sunflower seeds. The look ok his face watching her go away with that fake version of himself is so sad.
4. Rain King
Such a funny episode. I love them swinging together at that ball.
5. Post-modern Prometheus
The dancing scene… for reasons. Adorable doesn't even describe this moment. 😍